This mud cleansing gel was designed to clean thoroughly yet gently, leaving the skin free of all impurities.
Enriched with vitamin E & essential oils to moisturize and nourish the skin leaving it looking fresh and revitalized.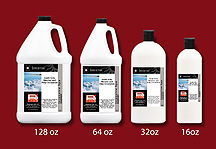 Item #: B4006
Description: Cleansing Gel
Sizes: 16oz, 32oz, 64oz & 128oz
Skin Type Usage: All
Used for: Gentle cleaning.
Effects: thoroughly cleans your skin of all impurities, while moisturizing and nourishing.
Directions for Use: Apply gel to face and neck area working into a rich lather. Rinse and repeat if desired. Follow with Swisa Anti-Aging Crème.
Ingredients: Aloe Barbadensis Leaf Extract, Tea-Lauryl Sulfate, Butylene Glycol, Cocamidopropyl Betaine, Cocamide DEA, Glycol Stearate, Lavandula Angustifolia (Lavender) Oil, Sodium Chloride, Silt (Dead Sea Mud), Sea Salt (Dead Sea), Persea Gratissima (Avocado) Oil, Geranium Maculatum Extract, Tocopheryl Acetate (Vitamin E), Panthenol, Peg-120 Methyl Glucose Dioleate, Dimethicone, Methylparaben, Phenoxyethanol, Tetrasodium EDTA, Citric Acid, Fragrance.
The characters you copied from the image are incorrect. Please try again.