This thick and creamy topical skin softener leaves your body silky smooth and refreshed.
Shea butter remarkably restores elasticity to the skin while nourishing dehydrated cells through healthy anti-oxidant enriched emollients.
The combination of the Shea butter, Dead Sea Minerals and vitamins from botanicals makes this product a blissful treat to your whole body.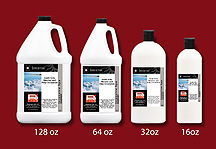 Item #: B2002
Description: Creamy Body Butter
Sizes: 16oz, 32oz, 64oz & 128oz
Skin Type Usage: All
Used for: Skin Softener.
Effects: nourishes dehydrated skin cell with healthy anti-oxidant enriched emollients.
Fragrances: Milk & Honey
Directions for Use: Apply liberally to the entire body as often as desired. Note: Air that lacks moisture will dry out your skin and cause a chaffing effect. This is especially true during the winter months when the air is at its driest. Hot showers and scrubbing can also lead to irritation and drying of the skin. For best results apply Body Butter directly after showering.
Ingredients: Aloe Barbadensis Leaf Extract, Glyceryl Stearate (And) Peg-100 Stearate Glycerin, Caprylic/ Capric Triglyceride, Cetearyl Alcohol (And) Polysorbate 60 Stearic Acid, Mangifera Indica (Mango) Seed Butter, Cyclomethicone Butyrospermum Parkii (Shea Butter), Theobroma Cacao (Cocoa) Seed Butter Symphytum Officinale (Comfrey) Rhizome/Root Extract, Squalane Beeswax, Sea Salt (Dead Sea), Retinyl Palmitate (Vitamin A), Tocopheryl Acetate (Vitamin E), Allantoin, Carbomer, Dimethicone, Methylparaben, Propylparaben Phenoxyethanol, Triethanolamine, Fragrance.
The characters you copied from the image are incorrect. Please try again.