The nutrient rich minerals, vitamins and anti-oxidants found in the Goji Berry and Apricot Kernel Oil form the foundation of our unique new product line - The Secret of the Himalayan. These key ingredients along with only the purest botanicals and essential aromatic oils make or Himalayan Line of products one of the most unique and newly innovative beauty products to hit the market.
Himalayan Goji Berry
The Himalayan Goji Berry is one of the newest, innovative ingredients for topical application. Multi-beneficial to help combat inflammation and a powerful antioxidant to help fight against free radical damage to the skin. The topical application of the Himalayan Goji Berry helps to calm irritated, sensitive skin while aiding in skin moisturizing with powerful anti-aging properties.
Four polysaccharides discovered in Goji berries have not been found in any other fruit on Earth. The Goji polysaccharides enhance the body's production of human growth hormone (HGH), which helps build muscle and repair skin cells.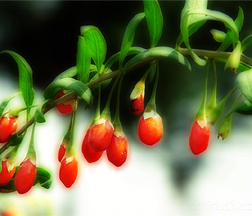 Goji berries contain 500 times more Vitamin C per gram than oranges, and are the third richest source of Vitamin C on Earth. Per fluid ounce, Goji berries were rated the food with the highest antioxidant ability, exhibiting an amazing 3,472 ORAC units, compared to vitamin E oil at 3,309. The Goji berry contains a complete spectrum of these antioxidant carotenoids including beta-carotene and zeaxanthin. The berry also contains 21 trace minerals, including significant amounts of zinc, iron, copper, calcium, selenium, phosphorus and germanium. Germanium is a rare anti-cancer agent which is rarely found in foods, but about 124 ppm of organic Germanium is contained within the Goji berries.
Apricot Kernel Oil
Apricot Kernel Oil is enriched with elements beneficial to the skin, including Vitamin E and Carotene. Legend tells us the Hunzacuts applied the precious oil of the Apricot Kernel to their skins every day to protect themselves against their harsh environment.